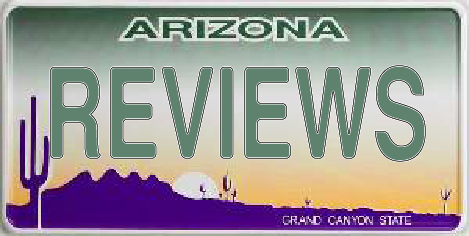 Read what some of our former students have to say in their reviews of our behind the wheel driving courses, then decide for yourself!
"Thank you so much Chandler Driving School for the education you provided my son in preparing him to drive. His confidence skyrocketed after his first lesson. He really enjoyed driving with Darla and told me he's recommended her to his friends. I had worked with him and tried to teach to the best of my abilities but there is nothing better than a professional to teach the skills necessary to drive a vehicle. It was also well worth the money paid for lessons, to get the insurance discount we now receive. Thanks again for all you've done."
Jack B.
Chandler, AZ
"This school was wonderful. My daughter is very shy! Matt, our instructor, was great. Very knowledgeable, kind ,low keyed and former Chicago policeman. Had her up on the freeway second lesson. Look no further, this is the place!! couldn't ask for anything better.
Happy Dad, PS Happier Daughter!!!"
Gary B. 7/13/2016
"I would highly recommend Chandler Driving School. They accommodated my daughter's work schedule and more importantly taught her the fundamentals of driving. In her words, Andrew was "chill" which made it easier to take in driving instruction. Thanks!!"
Frank S. July 11, 2016
"Ryan is awesome he helped my son go from being completely nervous on the road to having complete confidence. I will definitely be recommending him!"
Elena R., March 15, 2016
"I sent my 16 year old daughter to Chandler Driving School for driving lessons. The lessons were definitely worth every penny. My daughter passed her driving test her first time, and has become a very confident and hopefully safe driver thanks to Jeff and Billie. It was a wonderful experience, my daughter learned valuable knowledge in her lessons. Instructor Jeff was very patient and thorough! Billie was wonderful to work with when setting up the lessons and very patient with changes we had to make along the way. All in All a wonderful experience. I will definitely recommend Chandler Driving School to all my friends and family. We have another young driver- to-be in 6 months and we will be knocking on their door again! Thanks Chandler Driving School!"
Mariam H., June 5, 2014
"Best price, got us scheduled quickly, and the instructor gave our daughter the driving test so she didn't have to do it at MVD. She is now licensed! We had already spent about 20 hours in the car with our daughter, so she came to Chandler Driving School as an intermediate. Larry was her instructor, and she really enjoyed driving with him. He spent 10 hours working with her on freeway and rush hour driving, 3 point-turns, and parallel parking. The lessons were 5 days, every other day, for 2 hours. No horrific classroom videos with all the gore like I was forced to watch when I was in driving school. Just hands-on driving with a qualified instructor. Each lesson ended with an evaluation so we could see her progress. The process was quick and convenient, she is confident in her ability, and we are now comfortable letting her drive on her own. 2/05/16 Melanie"
"The School and Instructor (Larry) were great! The pace for learning was just right and it was a very encouraging atmosphere to learn in. Kristine 5/23/16"
"I am so grateful that we chose driving school for [our daughter] & absolutely chose right in choosing Chandler Driving School! Kim 3/18/16"
"My teacher (Larry) was really fun and made driving less scary and installed the confidence in me to go on main roads. 3/21/16 Cameron"
"We love it. [our daughter] has really grown in confidence & ability. 1/28/16 Krista"
"Learning with the Instructor (Darla) is totally different from your spouse. Learning from my husband's teaching gave me fear of driving, learning from instructor – confidence! I would recommend everyone learning from school, rather than relative."
"Loved the school & the instructor. It made teaching [our daughter] how to drive much easier on us. She got the fundamentals from Darla so we could help her practice. 11/07/15 Peggy"
"My son R. attended the Chandler Driving School and had such a great experience! He entered the program feeling a bit nervous, as I'm sure most kids do, but I could see his confidence growing with each lesson. Now that he has his license I feel better when he's out alone because he received such great training from Chandler Driving School. Also, he really liked Jeff his teacher and Billie in the office is always friendly and helpful. If you're considering lessons for your child, I'd highly recommend Chandler Driving School! It was a great experience!"
"We cannot thank you and your team enough for helping C*** with driving lessons these past few weeks. He is doing wonderful, practicing, and off soon to take his test. We did a lot of looking around and can honestly say that Chandler Driving School was the very best choice we could have made.You were so flexible, and Jeff (his instructor) was understanding and easy to work with – thank you so much! –Good news…our other son just turned 16 this past weekend so I expect he will not wait as C*** did and we'll need to schedule him with you all very soon!"
Kind Regards, Blair & Terriann
"Great service, good price, close to home! Bought my son 10 lessons, quickly saw my son had experience, gave not only him the confidence to be a good driver, but gave me a piece of mind. If he survived the drive to I-17 and downtown Phoenix at rush hour then he can handle the "traffic" in Chandler! Thank you Chandler Driving School great experience for us!" Ines H.
"Chandler Driving School did a great job with our 16 yr. old son. Jeff and Billie truly seemed to care about him and his success. We will be bringing back our daughter when the time comes. Thank you Billie and Jeff." – C.W. Chandler AZ
"I am pleased to let you know that [my daughters] both passed their road tests today and got their licenses. While waiting outside by the "three point turn" area, I got to see a lot of potential drivers and I can state unequivocally that the lessons with you were money well spent. They became confident drivers under your tutelage and it was great to take them out for night practices over the last two weeks and know that they were much better prepared for the test and for the driving scenarios they will encounter." –Tim G.
"Great driving school! They don' t waste any time getting you on the road. Give great tips and pointers to become a successful driver. This is a 2 week class and within those 2 weeks I have improved my driving skills and look forward to getting my license within the next couple of weeks :)" Jerrica
"Hi Billie, I just want to thank you guys for everything with this short review. Jeff was great and I would definitely recommend you guys!" –Wendy, Chandler
"We had a great experience with Chandler Driving School. They had plenty of flexible appointments available and the instructor, Jeff, was very patient and helpful.-L.P.Gilbert AZ
"After I tried driving with relatives (a few times all in all) we decided I need to go to a driving school and after taking their 10 hour course I am ready to take my road test! They are really nice and will work with you around your schedule. The instructor is really helpful with tips, has your back when you forget to break/drive out of your lane/etc so you are safe! Their school car is really easy to drive and is comfortable." Neja C.
"The 6-hour course added to her confidence and allowed her to pass her License Exam on the first attempt. Driving instruction from Chandler Driving School was recommended to us by trusted friends, and we will not hesitate to pass along the recommendation to others. The instructor was fabulous and also helped fine tune her driving skills and points of focus on the test. We would highly recommend him to anyone."–Gary and Beth, Chandler AZ
"The instructor my son had was great. He was patient, thorough, fun, and professional. I will be sending my daughter to them next year! Thanks to this school I don't feel as nervous when he's in the driver's seat anymore. (I'm a bit controlling). They were worth every penny." 7/22/13
"I took Novice/10 hours course (before that I did maybe 4 hours of driving just in a neighborhood but was scared to go on main streets) and am ready to go take my road test! The instructor is very helpful with tips and is calm the whole time while learning how to drive and has your back if you don't break/are about to drive off of lane etc. Plus you don't have to provide a car and their car is really easy to drive. They are super nice and do their best to work around your schedule." N. C. Chandler AZ
"This place is great. Signed up my daughter and she learned a ton. After practicing she got her license on the first attempt. My sons will also be going here for instruction."- Merle H
"I absolutely loved it. With CDS training, helped me to get rid of all my fear I had about driving. I really appreciate all the time and support had been provided by CDS. The best instructor I ever had." Demi R